When COVID-19 struck China and then Europe months before contaminating the United States, Marcellus Mosby II took notice. Mosby also took action.
In February, the Baltimore native established DISINFECT-IT, an EDA certified commercial and residential disinfecting service that now has emerged as a regional leader in microbial remediation and a safeguard against the rapidly spreading pandemic.
"I'm a news guy. I watched the news all over the world, and I was watching news channels in China and throughout Europe, and I saw what was happening overseas," Mosby said. "I also saw the government's measures to alleviate this problem, and that's when I got the idea to start DISINFECT-IT."
Mosby's business counted among the first companies incorporated solely to provide disinfection in the region.
DISINFECT-IT partners collectively have amassed over 30 years of janitorial, sanitation, and disinfecting compliance experience, Mosby said.
The team utilizes a tested and certified environment-friendly fogging process with EPA registered ULV Spray System.
This form of remediation represents the singular focus of their business, un- like the numerous plumbing and extermi- nation contractors in the flooding marketplace currently offering "copycat" services to their customers, he noted.
"Typically, when we go into a space, and the first thing you want to know is contamination," Mosby said. "A lot of places want to make sure that there's no contamination while others who have had someone with the coronavirus want to make sure that no one else is infected."
When Mosby's company is called to a business or home, the first plan of action is to track where a person who's had the virus has been.
"We attack the high-touch areas like doorknobs and telephones," he said. "Then, we start our ULV process, and we break things down and eliminate any airborne passages that could be in that space." ULV, or ultra-low volume, fogging equipment is used predominately for the application of disinfectants, biocides, fungicides, and pesticides.
"Everything that we use is safe for food contact, safe for pets, plants and safe for small children as well," Mosby said, adding that it helps restaurants by providing an extra layer of protection to whatever disinfecting protocol they might already have.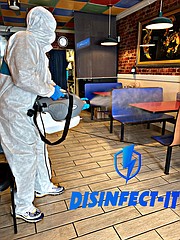 Mosby and his crew wear hazmat suits, respiration face masks, gloves, and cover their shoes with hospital-like booties.
"One of the biggest things for us is preventing cross-contamination. The last thing you want to do is to bring the virus into a space or to take it home to your family," Mosby said.
He noted that because of the uptick in virus cases, the company remains busy. "It's good for businesses and everyone else because we are helping to eradicate the virus in some cases," Mosby said.
He added that he's done much research about COVID-19, and his penchant for world news helped him anticipate the outbreak in the United States.
"I saw that it was coming to the states and wanted to be proactive. I knew that if disinfecting found compassion for our community, we'd have success. We are striving to be the best because I know the magnitude of what we can provide our community and, ultimately, this country," Mosby stated.